Atlantic City Casinos
Atlantic City is located on Absecon Island in Atlantic County. It is approximately 60 miles southeast of Philadelphia and about 100 miles south, southwest of New York (North Latitude: 39 21'32", West Longitude: 74 25'53). Atlantic City's proximity to population centers and convenient, inexpensive train access allowed thousand to flee the hot cities and enjoy summer pleasures at the cool seashore.

From the 1880's to 1940's, Atlantic City was a major vacation resort. In the 1920's, it was a pre-Broadway show tryout town. Population peaked at 66,000 in the 1930's, and despite hard times, people came to forget their troubles. In the 1940's, the U. S. Army used the city for training purposes, occupying several of the major hotels on the Boardwalk. The city grew rapidly and provided lodgings, eating places, amusements, entertainment and activities for all ages, tastes and incomes. Over the years, many famous figures visited and entertained here. A number of attractions, like the Boardwalk, amusement piers and beauty pageants were developed. (credit for Atlantic City history goes to the Atlantic City library)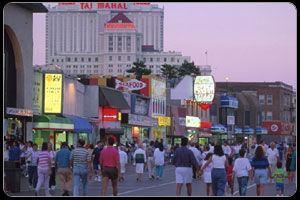 On May 28, 1978, Resorts International in Atlantic City became the first U.S. casino to be found outside of Nevada. Atlantic City (or A.C. as its affectionately called) has made New Jersey the second powerhouse U.S. state in terms of casino revenue.

In 1998, the 12 Atlantic City casinos pulled in over $4 billion (as compared to the almost 400 casinos in Nevada, which made $8 billion). The Atlantic City casinos don't have quite the glitz and glamour of the Vegas strip, but they do provide plenty of entertainment for day-trippers, slot lovers, and others. The prevailing gambling conditions aren't awful, but you won't find as many opportunities as in Nevada - of course, this statement would be true for any gambling venue that's not in Nevada. For a long time, Atlantic City casinos have had the east Coast monopoly on gaming.

Even greater plans are in store for Atlantic City casinos. Substantial progress is evident now in the construction of housing and government buildings in the city. A viable casino revenue reinvestment program is now in place, as is an Amtrak rail link between Atlantic City and Philadelphia. Some casinos have announced plans for general family entertainment and Ocean One shopping mall has been successfully operating on the site of the former Million Dollar Pier. The world famous Boardwalk remains a major attraction, offering shopping and amusements of all types. Construction has been completed on the new Atlantic City Convention Center and the new Atlantic City High School opened its doors in the Fall of 1994. It would seem another chapter in Atlantic City's colorful history has begun, and the city may once again proudly wear its title of "Queen of the Coast."

So now, the city is trying to expand its image. It is promoting itself as a "world-class visitor and meeting destination" as well as the Atlantic City casinos. In a grand-scale effort to realize its boast, "America's Favorite Playground" is in the midst of a multi-billion-dollar renaissance. The goal of the massive redevelopment and expansion is to add to the approximately 37 million visitors who already frequent Atlantic City every year. Developers are enhancing the town's look and facilities, and broadening its interest base to accommodate conventioneers and a variety of vacationers in addition to gamblers.

Undoubtedly, for the newbie in the world of gambling, the Atlantic City casinos is an excellent venue to begin and win.