Gambling Boats
In gambling circles, the terms riverboat and gambling boat are both used interchangeably. When Mississippi passed legislation in 1990 to allow riverboat gambling, the floodgates were basically opened. States all along the Mississippi and Missouri rivers now have gambling cruises. These gambling boats aren't necessarily throwbacks to the glorious and mythical days of vest-wearing cardsharps with derringers in their sleeves; many offer enough space for 1,500 passengers and very modern, luxurious surroundings. (Interestingly, Louisiana does require their riverboats to look like genuine 19th century riverboats.)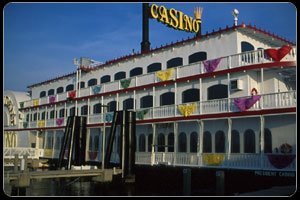 The first Mississippi casino opened up in 1992 and since then the state has skyrocketed into third place among gambling destinations. One of the poorest states in the USA is now entertaining over 65 million patrons and obtaining gaming revenues of almost $2 billion per year. Gambling boats were a major factor here too.

Major companies - Mirage resorts, Harrah's, Circus - have all opened swanky new gambling boat casinos with spacious hotels. To put this boom into perspective, consider this: in 1992, Tunica County in Mississippi had 16 hotel rooms and today its over 6,000.

Each gambling boat may float by different rules, so always find out the details before heading aboard. Some gambling boats charge admission and some don't. Some actually cruise and some don't. Note however, in Mississippi, by law, the gambling boats are not allowed to cruise. Some put a time limit on how long you can play and some don't.

A related area is that of Cruise Ships. Often called "cruises to nowhere", these jaunts head out to unregulated international waters. The cruise ship companies can apply whatever rules and payouts they choose; they have a captive audience and no state or federal gaming commission looking over their shoulders. That doesn't mean you can't find good deals and favourable rules. Just check it out before you decide to set sail.