Las Vegas Casinos
Las Vegas ... the "Gambler's Mecca". The casino capital of the world. Just say Las Vegas and images of glitz, excess, and kitsch pour into one's head. Born a gambler's paradise in the 1950's, the land of neon and spectacle has transformed itself into a family vacation spot. In fact, it's now second only to Walt Disney World as the top vacation destination in the United States.

On the famous Las Vegas Strip, you have all the gigantic theme Las Vegas casinos working hard to entertain you while taking your money. There are elaborate shows (from Broadway-style productions to the inescapable Siegfried and Roy), thrill rides high in the air, theme parks, laser shows, and arcades for kids. There are also upscale malls and shopping centers. And through it all are the themes that define each hotel and turn Vegas into one big ball of unrealistic kitsch: Egyptian, Roman, South Seas, pirates, New York, circuses even South America.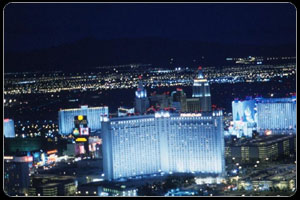 And there seems no end in sight for the growth, expansion and popularity. Las Vegas casinos are as popular as ever before. The first in the new wave of mega-resorts is the Bellagio, Steve Wynn's $1.6 billion dream child. It boasts a $300 million collection of fine art featuring the works of Van Gogh, Monet, Renoir, and Picasso. To complement this high brow simulation, there are 2,600 slot machines standing by for tired art appreciators, some of them high-limit slots including $1,000 machines.

Then comes Mandalay Bay (cost: $900 million, 3,700 rooms); the Venetian ($1.2 billion, 3,036 rooms) with a second phase that will bring the cost up to $2.5 billion; Paris ($760 million, 2,900 rooms), Aladdin ($1 billion, 2,600 rooms). All of these big Las Vegas casinos will also have major upscale shopping facilities. So you see there is a lot happening with Las Vegas casinos.

Las Vegas casinos are and always will be the lifeblood of Las Vegas. According to the Las Vegas Convention and Visitors Authority, almost 90% of 1997 visitors to the city gambled, spending an average of more than $500 in their pursuit of the big win. Much more is on the horizon for Las Vegas casinos. In the next few years, 20,000 new rooms will be added to Las Vegas hotel casinos. That will bring the grand total up over 130,000. Does excess lead to excess? We shall see.

Downtown Las Vegas, which is a few miles north of the Strip, offers less glitzy casinos that cater to local clientele. These casinos are not known as mega-resorts, but as places to find more favourable playing conditions. Reno, in northern Nevada, is a small, scenic city that, like the Las Vegas casinos has also made gambling its reason for existence.

The bottom line: you won't find another place on Earth that has the quality and quantity of casinos than the Las Vegas casinos - and all of Nevada - has. It will embrace the highest and lowest rollers; competition is the key. Check out Online Vegas Casino.