Gambling Tips
Every new gambler is hungry for those little tidbits of information that can make the difference between a trip to the table being fun, or being frustrating. Gambling tips are available far and wide on the Internet, and they come in two flavors, good and bad. The problem is, its often hard to tell, as a novice gambler, who's giving you good advice and who's giving you bad advice.

Fortunately gambling tips are usually backed by some sort of intuitive or nonobvious mathematical reasoning. So when your out and about picking up the latest tips to help you gamble, pay attention to the source of the tips, and the logic they seem to promote. Often you will see the same tips over and over again, this is not a bad thing. This usually means that they are generally accepted, or they have all come from one source, and that source must be quite accessible to Internet publishers.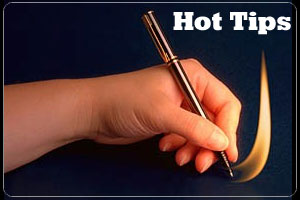 When we talk about gambling tips, we must talk about the odds. As you may know, odds are based on a branch of mathematics known as probability. Probability is used in all aspects of our lives: weather, science, genetics, medicine, business, stocks, insurance. Is it likely to rain tomorrow? The average male is expected to live how long? What are the odds that your child will have your blood type? Within gambling, the question becomes, what are the house odds? Check out our page for novices on gambling odds.

Gambling tips usually match up with components of advanced or basic gambling strategies. When you find a good tip, search from a search engine and see if you can find the same tip somewhere else. If you can't, go and ask a gambling expert. There are many community forums online where professional or seasoned gamblers will be happy to help you out. Since these tips should match up with logic, look for the logic within them.

But tips are not always the same thing as advice on specific situations within a game. That more reasonably falls under the topic of gambling strategies. Take for example the roulette "tips" published in a guide to casino gambling by Andrew Brisman.

Many gambling tips are taken from published gambling books, and often go without proper credit. These tips are usually laid out in a simple to understand manner with some supporting statement.

-Never make the five-number bet (0, 00, 1, 2, and 3). Its house edge is 7.89%
-Search for European roulette wheels (37 numbers including single 0). The house edge on all bets is 2.70%

These are perfect examples of good gambling tips. They contain a logical element, backed by mathematical example of how the house edge is reduced.

Some good tips never mentioned the house edge, as they are general rules to gamble by. For example -"professional roulette player" is an oxymoron. No betting system will change the casino's advantage.

Very useful to know. For more information on roulette and why systems are not so useful for that game, check out Aaron's roulette page.